Digi XBee? Wi-Fi
OEM Module with Fully Integrated Support for Digi Device Cloud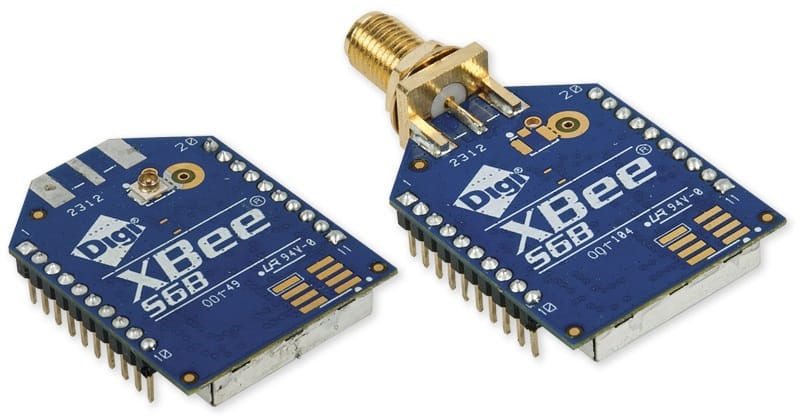 Build cloud-connected Wi-Fi prototypes in under an hour
Popular XBee Through-Hole and Surface-Mount footprints
Ideal for Industrial Applications that require fast time to market
Easily connect to a smartphone or tablet for configuration or data transfer
802.11b/g/n provides up to 72 Mbps data rate
Specifications
Platform
Digi XBee Wi-Fi (S6B)
Features
Serial Data Interface
UART up to 1 Mbps, SPI up to 6 Mbps
Serial Data Throughput
UART up to 320 Kbps, SPI up to 1 Mbps
Configuration Method
API or AT commands
Frequency Band
ISM 2.4 GHz
ADC Inputs
4 (12-bit)
Digital I/O
10
Form Factor
Through-Hole, Surface-Mount
Antenna Options
Through-Hole: PCB (Embedded), U.FL, RPSMA, Integrated Wire
SMT: PCB (Embedded), U.FL, RF Pad
Operating Temperature
-30° C to +85° C
Dimensions (L x W)
Through-Hole: 0.960 in x 1.297 in (2.438 cm x 3.294 cm)
SMT: 0.87 in x 1.33 in x 0.12 in (2.20 cm x 3.40 cm x 0.30 cm)
Networking & Security
Security
WPA-PSK, WPA2-PSK and WEP
Channels
13 channels
Wireless LAN
Standard
802.11b/g/n
Data Rates
1 Mbps to 72 Mbps
Modulation
802.11b: CCK, DSSS
802.11g/n: OFDM with BPSK, QPSK, 16-QAM, 64-QAM
Transmit Power
Up to +16 dBm (+13 dBm for Europe/Australia/Brazil)
Receiver Sensitivity
-93 to -71 dBm
Power Requirements
Supply Voltage
3.14 – 3.46 VDC
Transmit Current
Up to 309 mA
Receive Current
100 mA
Power-Down Current
<6 μA @ 25° C
Regulatory Approvals
FCC (USA)
Yes
IC (Canada)
Yes
CE/ETSI (Europe)
Yes
C-TICK (Australia)
Yes
Telec (Japan)
Yes
Anatel (Brazil)
Yes
Part Numbers & Accessories
DEVELOPMENT KITS
Digi XBee Wi-Fi Cloud Kit
XKA2B-WFT-0
XBEE WI-FI (S6B) MODULES
XBee Wi-Fi (S6B), PCB Antenna, SMT
XB2B-WFPS-001
XBee Wi-Fi (S6B), PCB Antenna, Through-Hole
XB2B-WFPT-001
XBee Wi-Fi (S6B), RF Pad Antenna, SMT
XB2B-WFRS-001
XBee Wi-Fi (S6B), U.FL Antenna, SMT
XB2B-WFUS-001
XBee Wi-Fi (S6B), RPSMA Antenna, Through-Hole
XB2B-WFST-001
XBee Wi-Fi (S6B), U.FL Antenna, Through-Hole
XB2B-WFUT-001
XBee Wi-Fi (S6B), Wire Antenna, Through-Hole
XB2B-WFWT-001
ANTENNAS
Antenna – 2.4 GHz, half wave dipole, 2.1 dBi, RPSMA male, articulating.
A24-HASM-450
Antenna – 2.4 GHz, half wave dipole, 2.1 dBi, U.FL female, articulating.
A24-HABUF-P5I
Antenna – 2.4 GHz, half wave dipole, 2.1 dBi, RPSMA male, articulating.
A24-HASM-525
Antenna – 2.4 GHz, quarter wave monopole, U.FL female.
A24-QUF-P4S
Antenna – WiFi, Table-top Mount, 2450Mhz, 0.5m cable.
DC-ANT-24DT
Product Support
QUICK START GUIDES
Quick Start Guide: XBee Wi-Fi Cloud Kit
Getting Started Guide: XBee S6B Wi-Fi Cloud Kit
(Legacy) Getting Started Guide: XBee S6B Wi-Fi Development Kit
GETTING STARTED GUIDES
XCTU Configuration & Test Utility Software User Guide
USER MANUALS
User Manual: XBee S6B Wi-Fi RF Module
TECH SPECS
Schematic: XBIB-U-DEV Interface Board (TH)
Reference Guide: XBIB-R-DEV Interface Board (rev. A)
Reference Guide: XBIB-U-DEV rev. B
Schematic: XBIB-R-DEV Interface Board, rev. B
SCHEMATIC: XBIB-U-DEV Interface Board (Rev B1)
ERRATA AND PRODUCT NOTICES
XBee Dev Kit – Product Notice #150225
PRODUCT NOTES
Application Note: Configuring a Digi XBee Wifi module for TCP Socket Connections
CERTIFICATIONS
Government Agency Certifications
XBee Dev Kit – Errata sheet #150320
Schematic: XBDB-U – Wi-Fi Cloud Kit Development Board
DRIVERS
GENERAL DRIVERS
Drivers Installer for Windows (XP, Vista, 7 and 8)


USB Drivers are required to use XCTU with the XBIB-U (USB) interface board and the PKG-U Modems and Adapters.

Linux and Mac OS X Drivers (provided by FTDI)


The USB interface boards Digi provides use FTDI chip drivers. Linux and Mac users are advised to download drivers directly from FTDI

Note: Legacy drivers and installation instructions can be found here.
FIRMWARE
GENERAL FIRMWARE
ProductNotice141017_XBee WiFi (S6B) 2023 FW Release
XBee S6B Firmware Through-Hole Module v. 2026
XBee Wi-Fi S6B Firmware SMT module v. 2026
XBee Wi-Fi S6B Firmware Release Notes v. 2026


XB2B-WFS6B-001
UTILITIES
GETTING STARTED GUIDES
XCTU Configuration & Test Utility Software User Guide
DOWNLOAD XCTU
XCTU v. 6.3.4, Windows x86/x64
XCTU v. 6.3.4, MacOS X
XCTU v. 6.3.4, Linux x64
XCTU v. 6.3.4, Linux x86
XCTU v. 6.3.4, License Agreement
DOWNLOAD LEGACY XCTU
XCTU ver. 5.2.8.6 installer
Last old-gen version of XCTU: Contains features from previous versions, plus adds support for XBee Wi-Fi modules, Compatible with Windows 2000, XP, 2003, Vista, 7. Does not support the Digi XLR PRO.
XCTU 32-bit ver. 5.2.8.6 installer release notes
GENERAL DIAGNOSTICS, UTILITIES AND MIBS
XCTU v. 6.3.4, Release Notes